Filing a tax return

The tax return 2023, for income year 2022, is open for filing from March 1st. The deadline for completing the tax return is March 14th.
Information regarding your salary, real estate, vehicles, bank accounts, debt and more are pre-filled in. Reviewing the prefilled tax return, adding any additional information is fast and easy.
Login identification
Electronic identification (Rafræn skilríki)
You can apply for an electronic ID at your Icelandic bank, Auðkenni or at most telephone companies. Just bring your phone and a valid identification, i.e. a passport or a European drivers' licence.
Further information on electronic IDs
Webkey/password (Veflykill):
An electronic ID is the best option but if you don't have one you can use a password. You get your password at the website www.skattur.is using the link "Sækja veflykil". You choose whether to have it sent by mail to your registered address in Iceland (Lögheimili) or to your online banking in Iceland (Heimabanki).
Get your password (veflykill)
Living abroad
Those living abroad may be required to turn in a tax return in Iceland, for example those who received salary or any other type of income from Iceland in the year 2021 and real estate owners.
Should a person living abroad not be able to log in with an electronic ID or have an active password, a new one can be sent as soon as the application form has been filled out.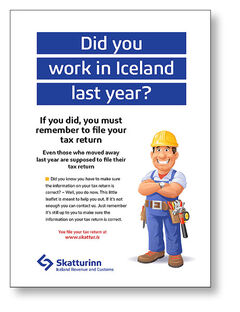 Simplified instructions
If you worked in Iceland last year you must remember to file your tax return, even if you moved out of the country. In this brochure are simple instructions on how to file a basic tax return.
The brochure is available in the following languages:
English
Polski
Español
Lietuviškai
عربي
українська
Íslenska